Give Rating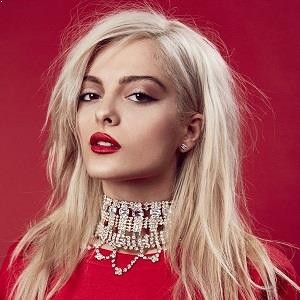 Give Rating
Hometown:

Brooklyn, New York, U.S

Birth Date:

30 Aug, 1989

Label:

Warner Bros / DCD2 / Island Def Jam

Website:

http://www.beberexha.com
You could say bebe rexha has no filter. The new york-born and los angeles-based singer, songwriter, and pop disruptor constantly speaks her mind, and that honesty drives her 2017 full-length debut, all your fault [warner bros. Records]. Over a soundscape inspired by nineties r&b sass and modern pop style, she's not afraid to candidly open up about breakups, flip off fake friends, or be a bad bitch…
"I want people to know who I truly am," she exclaims. "I've changed so much over the past few years, and I feel like I've come into this strong and powerful person. In this industry, you can either watch yourself drown or learn how to swim. I had to learn how to swim, and now I'm going to keep moving forward."
In august 2015, bebe found herself in the midst of personal and professional upheaval. Within the span of a week, a long-term relationship ended via text message, and she parted ways with her original team. Bouncing between airbnb homes in los angeles, she attended a writing camp at westlake studios and commenced channeling these experiences into what would become all your fault.
"I just started writing," recalls bebe. "rather than victimizing, I looked at myself and reflected on who I am. All your fault is actually a positive. The idea isn't, 'it's all your fault I'm sad;' the idea is, 'it's all your fault, I'm a better woman.' instead of being upset and bitter for getting fucked over, I decided to take my life into my own hands. I'm not holding back with the music."
She confidently emerged from this tumult with the songs that would comprise her debut. Drawing from turn-of-the-century trailblazers like destiny's child, aaliyah, and timbaland and making a conscious decision to "get sexier than ever before," she boldly defines her signature style. It comes across loud and clear on the lead single "I got you." jumping from seductive verses into an unshakable chorus, she immediately enchants.
"it's about meeting someone you really like, but this person becomes closed off to you," she explains. "you're trying to say, 'I'm just like you. I've gone through the same thing. I got you.' it's what I would want somebody to tell me. When you're freshly single, you're essentially bruised and scarred. You're very weary. You're assuring this person you're ride or die, will do whatever the fuck it takes, and you're not like the others."
Whether it's the rapid fire delivery of "atmosphere" or the hypnotic heart of "small doses"—which boasts orchestral and cinematic violin courtesy of lindsey stirling— bebe's vision proves both deep and dynamic. Elsewhere on the album, g-eazy serves up sharp and sizzling bars on the fiery "fuck fake friends," and ty dolla $ign brings heat to the empowering declaration of "bad bitch."
"I was starting to feel myself on that one," she smiles. "I'd fallen in love with somebody, and he told me he was tired of all the basic, groupie girls. So, I was like, 'you want a bad bitch. I'm here.' I've been too good. Now, I want to be naughty and shake things up."
Bebe's destiny was always to shake things up. In 2015, nearly ten years of hustling and grinding began to pay off. She teamed with g-eazy for the quintuple-platinum smash "me, myself & I." as the song took off to pop ubiquity, they delivered show-stopping performances at the iheartradio music awards, the tonight show starring jimmy fallon, and jimmy kimmel live!. Next, bebe charged up her own single "no broken hearts" [feat. Nicki minaj], which amassed over 100 million combined streams and 125 million youtube views in less than six months. Another international hit with martin garrix, "in the name of love," followed, racking up 350 million combined streams. Capping off a banner year, she hosted and performed at the 2016 mtv emas. So far, cumulative single sales exceed 8 million worldwide, while total spotify streams and youtube views surpass 2 billion and 1.5 billion, respectively. Along the way, she's received acclaim from entertainment weekly, gq, elle, usa today, billboard, and many others.
At the end of the day, bebe pulls no punches, and that's why she always makes a connection.
"I never had an older sister, so I want to be like the older sister to girls who need one," she leaves off. "I want to encourage them to grow into their skin, love themselves, and be bad bitches."