R.A. The Rugged Man Feat. Ghostface Killah, Masta Killa, Kool G Rap & Xx3eme - Dragon Fire

Give Rating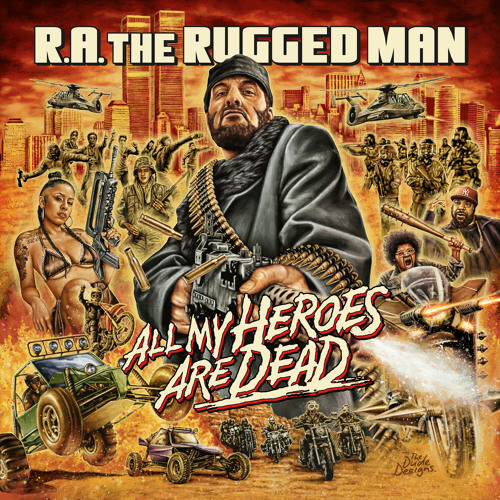 Give Rating
R.A. The Rugged Man teams up with Ghostface Killah, Masta Killa, Kool G Rap & Xx3eme for new track "Dragon Fire" Produced by SHROOM
Lyrics
You're not dead!
I'm a killer, that's why
Killers don't die so easy! Even though your so-called loyal clans all got together and tried to kill me! Hahahaha!
Ah! Ghost Face Killer!
Yo, we got killer Glocks loaded up with killer shots
To killer cops playin' the block with killer rocks
High-voltage guns that let off kilowatts
Big c-lo games that only got killer knots
Nothin' but killers in here that'll straight kill your career
The bullshit is killin' my ears
Kill a red carpet, geared to kill a premiere
This is Ghostface Killah, no
Killer fashion, watch how a killer rolls
With the classic Wallabees with the colorful soles
My killer actions leave fake killers exposed
There's no relaxin' when you see my killers on patrol
We got killers on parole that's real ill since Bill Bill
That'll fuck around and Kill Bill
Born in the killer Stapletown thriller
Ghostface Killah, yo, it only get realer
Wu-Tang! Wu-Tang! Wu-Tang! Wu-Tang!
Once upon a time, we was labeled the murder capital
velour, FILA suit with the cable
Do or die, kill or be killed, streets are murder
Ninja mask, killers on bikes, get your man lift
Sock on the toe of the Bally for the gearshift
Adrenaline pump the pulse, killer instinct
Trigger finger start to itch, my bad eye twitch
Cut from the fabric of the raw lyric
These are the rules, got a fam of killers that don't snitch
Quiet killers like carbon monoxide when doves cry
Masta Killa mic assassin, you all die
Slow, I move in silence, you won't hear a peep
Killers that'll kill you for real in one heartbeat
Slid to get y'all weak, we kill concrete
Spin it back and catch the beat, I squeeze mic heat
I squeeze my heat
Wu-Tang! Wu-Tang! Wu-Tang! Wu-Tang!
R.A.! The-The-The Rugged Man!
Wu-Tang! Wu-Tang! Wu-Tang! Wu-Tang!
Dummy, wanna fight me? Try me
Every record label sucks dick
Eyes Wide Shut masquerade, got Bob dancin
I'm in the mosh pit at the Rothschild mansion
I'm Thorburn, John Foreman
A livin' baptism in the river of Jordan
Rock bells when I kick the gospel, gods fell
Abort rappers like Kermit Gosnell, I'm not well
Black gestapos, white broncos, drop those
When the Glock blows, turn your face into potholes
Always had the hot flows since a booger snotnose
Mama couldn't afford us, she shoulda kept her twat closed
Fill a stadium, baby Damien
I'll sell a weapon to an Iranian, then I'll sell a Russian uranium
Beretta sever the head of the negative, never let 'em live
I'll put you to bed like Mr. Huxtable with a sedative
I am the filthy dirty degenerate representative of Juice Crew
Terror to the era terrorists, no they won't protect ya
The throne of The Bone Collector
Bullet to the dome, welcome to the home of Phil Spector
I toss 'em and flip 'em, ragdoll status
The murder, the madness
From Mad Dog Mattis
Sing
with R.A. de Don Gorgon
'longside Xx3eme de yardman
Rifle spit fire like dragon
Quickly send dem to de Lord and
Who dem are dis? Who dem are dis? (yah!)
Who dem are dis? Who dem are dis? (yah!)
Food eat, never miss (na!)
We send reminisce
Wu-Tang! Wu-Tang! Wu-Tang! Wu-Tang!
Juice Crew All-Stars, oh my goodness
Juice Crew All-Stars, oh my goodness
G Rap's known 'cause I'm bad to the bone
I kill 'em executioner style
I'm Kool G Rap
I'm Kool G Rap
Poison
G ran with the thieves and the bandits
Toast click, don't make me leave you in transit
Don't even think about seizin' no chances
This shit make birds flee from they branches
If it ain't cheese where your hands is
We gon' leave you like Christopher Reeves in some Pampers
Don't sneeze, and you panic or breathe when we stand at reach
And you gon' bleed on your dandruff
Close steel, better hold still
They gon' find you with left with no grill like you're roadkill
Flashin' lights in the night, not from camera shots
Those the type from the ice in the random shops
Where the mothers come and candle blocks
Bodies rot in abandoned lots
Helicopters and the vans is SWAT
Cannibalism, scams and plots
Vandalism, grams and rocks
Stay in the kitchen, handle pots
Handle riches, hammer's cocked
Man in prison, man forgot
Tattoo teardrop and the can pop
Don't stop, won't stop
Hip hop can't stop
with R.A. de Don Gorgon
longside Xx3eme de yardman
Rifle spit fire like dragon
Quickly send dem to de Lord and
Who dem are dis? Who dem are dis? (yah!)
Who dem are dis? Who dem are dis? (yah!)
Food eat never miss (na!)
We send reminisce
Wu-Tang! Wu-Tang! Wu-Tang! Wu-Tang!
Juice Crew All-Stars, oh my goodness
Juice Crew All-Stars, oh my goodness