IDK Feat. YungManny, Rico Nasty, Big Flock, Big JAM & Weensey - 495

Give Rating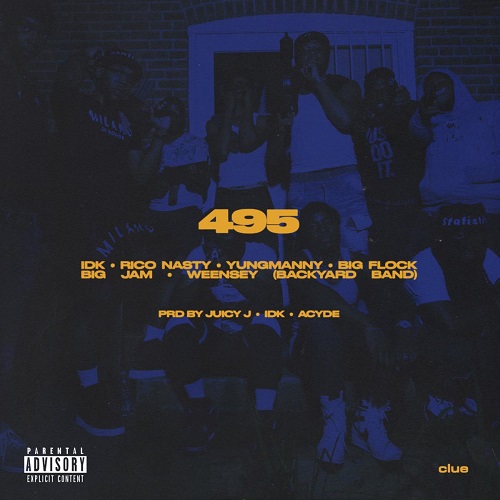 Give Rating
IDK is back with new single called "495" featuring YungManny, Rico Nasty, Big Flock, Big JAM & Weensey.
Lyrics
[Weensey, IDK & Juicy J]
(Love can be so cruel) All of a sudden, I'm in a dream
(Love can be for you) Just lookin' at you has made it begin
What Juicy say? He be like, "Shut the fuck up!"
Yeah, yeah, yeah (Yeah, nigga)
Yeah, yeah, yeah...
Uh-huh, uh, uh, uh, uh (Yeah, nigga)
[IDK & Big JAM]
R.I.P. Bankroll, R.I.P. Nipsey
R.I.P. Smoke Dawg, R.I.P. Jimmy
R.I.P. Pop Smoke, that shit got me stressed
R.I.P. X-X-X-X-X
I got three oppositions that might fuck 'round and blow (Blow)
I just plot, then I watch, get 'em bust down for low (Low)
Ooh, that's Flock, he got the Glock
And he got the drop, don't get shot
You get caught slippin', slippin', slippin', slippin', you gon' get mopped
I can't tell if he real or pussy, hmm, I'm tryna decipher
Me and my brodie used to live a good life, now he a lifer
Now he a killer, now he gorilla
Tryna be dope, now he a dealer
Movin' that gas, come get a fill-up
Premium-grade, no Reggie Miller, uh
[IDK]
IPhone 1 (Uh-huh, uh, uh, uh), pull up to get by (Brr)
My iPhone 2 (Uh-huh, uh, uh, uh), get it with the crew (Brr)
IPhone 8 (Uh-huh, uh, uh, uh), niggas had the Drake (Da-da-da)
IPhone X, leave a nigga late
[Big JAM & Big Flock]
Bitch, I'm not with that cappin', no extra fakin'
And I'm sendin' them shots with no explanation
Bullets rain on your block, precipitation
When me and JAM's out, no miscommunication
I was only sixteen when our house got raided
I was only thirteen and incarcerated
Been this way since a child, need no validation
You gon' die from the smoke, cancer patient
[YungManny]
R.I.P. too explicit, I'm XXX
Shoutout Tobi I die for my man, that's facts
If I'm takin' your shit, you can't get that back
Do not turn his music on that's that cap
7.62, shit, that's my type, no Saweetie
I might splatter his blood on the wall, no graffiti
Stick in my hand through his spell like I'm KeKe
That bitch wanna do 69, no "FEFE"
[IDK]
IPhone 1 (Uh-huh, uh, uh, uh), pull up to get by (Brr)
My iPhone 2 (Uh-huh, uh, uh, uh), get it with the crew (Brr)
IPhone 8 (Uh-huh, uh, uh, uh), niggas had the Drake (Da-da-da)
IPhone X (Uh-huh, uh, uh, uh), leave a nigga late
[Big JAM & Big Flock]
Bitch, I'm not with that cappin', no extra fakin'
And I'm sendin' them shots with no explanation
Bullets rain on your block, precipitation
When me and JAM's out, no miscommunication
I was only sixteen when our house got raided
I was only thirteen and incarcerated
Been this way since a child, need no validation
You gon' die from the smoke, cancer patient
[Weensey & Rico Nasty]
All of a sudden, I'm in a dream
Just lookin' at you has made it begin (X-X-X-X-X, yeah)
[Rico Nasty]
It's a crazy world but I know how to move, bada-bing, bada-boom
I'm still up like, fuck a snooze, fuck a loss fuck a lose
Nigga, any day, it could be fuck you
Buss you, then buss through you
I'm not tryna be workin' when I'm forty-two
I don't like new niggas on me, who is you?
Pardon me, I'm comin' through, when I do, it's fifty K on me
Got two hundred K in a rainy day, fund like, let it rain on me
They don't know who to point out
So they gonna put the blame on me
I always hear the same story
Let a bitch try to take something from me
I'll show a bitch why she should've never came for it
[IDK]
IPhone 1 (Uh-huh, uh, uh, uh), pull up to get by (Brr)
My iPhone 2 (Uh-huh, uh, uh, uh), get it with the crew (Brr)
IPhone 8 (Uh-huh, uh, uh, uh), niggas had the Drake (Da-da-da)
IPhone X, leave a nigga late
[IDK, Weensey & Juicy J]
How the hell they want me to love when they taught me to hate?
How the hell they want me to love when they taught me to hate? (Yeah, nigga)
How the hell they want me to love when they taught me to hate?
How the hell they want me to love when they taught me to hate? (Yeah, nigga, yeah)
All of a sudden, I'm in a dream
Just lookin' at you has made it begin