Gorillaz Feat. Skepta & Tony Allen - How Far?

Give Rating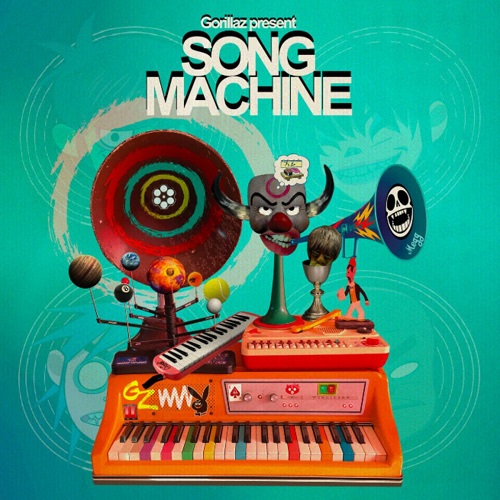 Give Rating
"How Far?" is the fourth installment in Gorillaz's musical series Song Machine. The song, featuring UK rapper Skepta and legendary Fela Kuti & Africa 70 drummer Tony Allen, comes two days after the iconic drummer's passing at 79 years old.
The song, featuring vocals from Skepta and instrumentation from Gorillaz and Allen, deals with themes of having fame and notoriety, with Skepta rapping about having to protect yourself once you gain the two qualities.
Gorillaz advertised this track as a tribute to Allen, with the single artwork expressing the group's members' sadness on his passing.
Lyrics
[Tony Allen]
Hahahahaha
[Skepta]
Yeah, wah gwaan brother?
Time to hustle for the money, give the change to your mother
Change them sheets, you got stains on the cover
Better look sharp, now your face on the cover
[Skepta]
Like a chameleon, see a change in your color
Crabs in the barrel wanna hate on each other
So my life gets better, whatever the weather
I dance in the rain and I bathe in summer
It's the black Corleone in the button-up shirt
Before we take off you better buckle up first
Fresher than the President, psychedelics got me in my element
All negativity, oh that's irrelevant
Unbelief or ganja leaf, I back strap when I wrap the sheets
Now I feel to go for a drive so I grab my keys
Shades on, roof down, tryna catch a breeze
Ridin' 'round the hood, got the Devil in my ear
Can you smell that? Smells like jealousy in the air
Don't know who they're tryna scare
Looked at the man in the mirror, that's the only enemy that I fear
A zombie knows who to frighten
Just know I love the action but I move in silence
And, right now, I'm just takin' what's mine 'till Elizabeth returns to diamonds
[Skepta]
Wah gwaan brother?
Time to hustle for the money, give the change to your mother
Change them sheets, you got stains on the cover
Better look sharp, now your face on the cover
[Skepta]
Tryna be the boss of life, gets tougher
I hope you're ready for the truth that you're gonna discover
Always gonna be a Judas at the Last Supper
Stay woke, it's a rocky road on the come-up
I take the shots like Scorsese
More money, more problems and more ladies
Everyday somebody die, still, mothers give birth to more babies
The Earth spins, the world gets more crazy
You gotta have a suit for the christening
A suit for the wedding and a suit for the court case
Probably wear the same suit to the funeral
Tryna see the bigger picture, man it's bigger than the portrait
Bigger than me, no, you can't fight of your demons with vitamin C
Have to open your mind, use your vision and see
Keep your eyes on the prize so vigilantly
Love how you live, remember the world, full of expensive shit
Can't forget the poor 'cause you're friends with the rich
Stay true to the mold, I ain't ever gonna switch
[Skepta]
Yeah, yeah-yeah, wah gwaan brother?
Time to hustle for the money, give the change to your mother
Change them sheets, you got stains on the cover
Better look sharp, now your face on the cover
[Skepta]
Hm, who's that pressin' on the buzzer?
Better check the camera, you don't wanna get stuck up
You listen close, you can hear death around the corner
One wrong move and we're all gonna suffer
[Tony Allen]
Ah, yes, ooh, yeah
And take it, and lose it, ooh, yeah
And take it, and lose it, ooh, yeah
And take it, and lose it, ooh, yeah
And take it, and lose it, and take it, ah
[Skepta]
How far brother?
Time to hustle for the money, give the change to your mother
Change them sheets, you got stains on the cover
Better look sharp, now your face on the cover