Jazmine Sullivan - Heaux Tales

Give Rating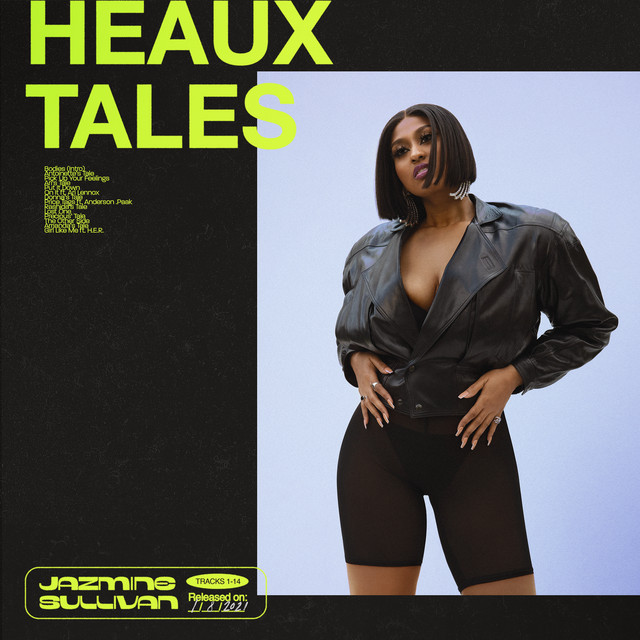 Give Rating
There's power in reclamation and Jazmine Sullivan leans into every bit of it on Heaux Tales. The project, her fifth overall and the first in six years, takes the content and casual candor of a group chat and unpacks them across songs and narrative, laying waste to the patriarchal good girl-bad girl dichotomy in the process. It's as much about "hoes" as it is the people who both benefit and are harmed by the notion. Pleasure takes center stage from the very beginning; "Bodies" captures the inner monologue of the moments immediately after a drunken hookup with-well, does it really matter? The who is irrelevant to the why, as Sullivan searches her mirror for accountability. "I keep on piling on bodies on bodies on bodies, yeah you getting sloppy girl, I gotta stop getting fucked up."

The theme reemerges throughout, each time towards a different end, as short spoken interludes thread it all together. "Put It Down" offers praise for the men who only seem to be worthy of it in the bedroom (because who among us hasn't indulged in or even enabled the carnal delights of those who offer little else beyond?) while "On It," a pearl-clutching duet with Ari Lennox, unfolds like a three-minute sext sung by two absolute vocal powerhouses. Later, she cleverly inverts the sentiment but maintains the artistic dynamism on a duet with H.E.R., replacing the sexual confidence with a missive about how "it ain't right how these hoes be winning." The singing is breathtaking-textbooks could be filled on the way Sullivan brings emotionality into the tone and texture of voice, as on the still devastating lead single "Lost One"-but it'd be erroneous to ignore the lyrics and what these intra- and interpersonal dialogues expose. Heaux Tales not only highlights the multitudes of many women, it suggests the multitudes that can exist within a single woman, how virtue and vulnerability thrive next to ravenous desire and indomitability. It stands up as a portrait of a woman, painted by the brushes of several, who is, at the end of it all, simply doing the best she can-trying to love and protect herself despite a world that would prefer she do neither.
Tracklist
1. Bodies (Intro)
2. Antoinette's Tale
3. Pick Up Your Feelings
4. Ari's Tale ft. Ari Lennox
5. Put It Down
6. On It ft. Ari Lennox
7. Donna's Tale
8. Pricetags ft. Anderson .Paak
9. Rashida's Tale
10. Lost One
11. Precious' Tale
12. The Other Side
13. Amanda's Tale
14. Girl Like Me ft. H.E.R.