21 Savage - i am > i was

Give Rating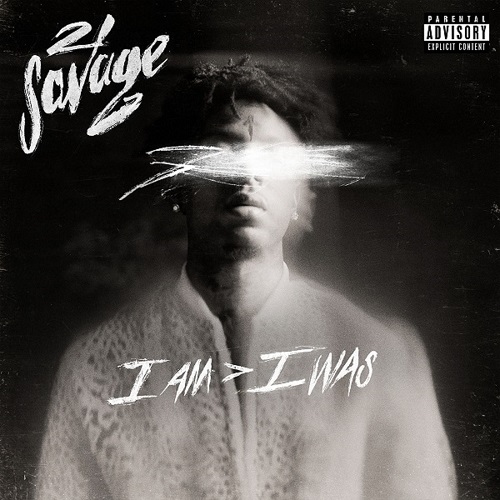 Give Rating
21 Savage is a changed man. If you hadn't been paying attention to a summer highlighted by consistent charity work and a new, jewelry-free aesthetic, you'll know by the title of his sophomore album, i am > i was. Musically, the Atlanta rapper stayed mostly quiet during 2018, save for a handful of feature verses, but if the December release of i am > i was tells us anything about his time cruising under the radar, it's that he's spent it creating a body of work that lives up to the title.
i am > i was is inspired, with Savage rapping at his crispest, delivering couplets as funny as they are menacing. "The chopper can hit all of y'all/Your brother, your goldfish, and dog/Most of my n*ggas just rob/They cut off and hand you your balls," he raps on "break da law." He's in his storyteller bag on "out for the night," but he takes off his armor to get sentimental on "letter 2 my momma." On "asmr," he revisits the whisper from 2018's Metro Boomin collaboration "Don't Come Out the House" and then whines in Auto-Tune on the bridge of "ball w/o you." He's also included a red carpet's worth of featured guests, including J. Cole, Lil Baby, and ScHoolboy Q, as well as the person responsible for Savage's biggest feature to date ("rockstar"), collaborator Post Malone.
The album takes numerous sonic cues from Memphis legends Three 6 Mafia ("break da law," "a&t," "good day"), but its most peculiar (if not most rewarding) inclusion comes by way of a Childish Gambino verse on "monster." At one time in Savage's career, the idea of this collaboration cut might have sounded laughable, but the 21 Savage of i am > i was - didn't come to fool around.
Tracklist:
01. a lot feat. J. Cole
02. break da law
03. a&t
04. out for the night
05. gun smoke
06. 1.5 feat. Offset
07. all my friends feat. Post Malone
08. can't leave without it feat. Gunna & Lil Baby
09. asmr
10. ball w/o you
11. good day feat. ScHoolboy Q
12. pad lock
13. monster feat. Childish Gambino
14. letter 2 my momma
15. 4L